Well guys, my winter project was finally put to the test a few weeks ago. After about 1,000 miles with the Club Car electric golf cart onboard and in tow behind the Cedar Creek, I am satisfied with my project.
For those that may be unfamiliar with the project, here is the story in a nutshell:
Before we purchased the CC 34SATS fifth wheel we pulled travel trailers. When we went to the beach, I would put the golf cart in the bed of the GMC dually 3500 series truck. But, the fifth wheel negated that option.
This left me with three choices
1. Forget it and go without a golf cart;
2. Rent a golf cart when we got there, or;
3. Design/build something safe and hopefully legal that could carry the golf cart behind the Creek.
You would have to really know me to understand, but I went with number 3, the hardest to accomplish option - which is what I usually end up doing.
Virginia, which is my home state, does not allow a tow combination over 60 feet long. They also do not allow "double towing" as some states do. This meant that whatever I put on the back of the CC could not be called a "trailer".
I did lots of research. I asked lots of questions of the Virginia DMV and State Troopers. I plowed through pages and pages of State Traffic Code manuals. I measured weights of the golf cart and the Creek paying close attention to tire ratings, pin weight, axle ratings, axle weights and even calculated the Creek's rear end weight where my hitch was welded on.
Things got tricky when I started computing the weights on the front and rear of the carrier. It was only 5 feet long and since the axles are not stationary the bias shifts as the axles turn. Going fully into back-up mode turns the axles 180 degrees and really plays havoc with the computed bias and weight distribution issue. I ended up having to put the swivel wheel axles further back than I originally wanted.
The same scrutiny was applied to the tow vehicle. I even said a few prayers asking for Supreme guidance.
I already had a rearview camera on the CC with a 7" LCD monitor in the truck cab. A little tweaking of the camera position allowed me to watch the movements of the golf cart on the carrier as well as what and who was following me.
Just to be on the safer side, I added a tire pressure monitoring system for both the CC and the carrier. Now I can get real time tire pressure and temperature read-outs in the truck cab. If trouble should develop, hopefully I can see it coming before I experience a total tire failure.
When all was done I had determined that the contraption shown in the photos above and below should pass as a legal device in Virginia and would not require registration or license plates. I say "should" since there is a tiny little grey area surrounding the wording in Virginia's definition of a "trailer". Virginia Traffic Code section 46.2-100 defines a trailer as:
"Every vehicle without motive power designed for carrying property or passenger's wholly on its own structure and for being drawn by a motor vehicle."
My oldest son, who is a detective with our local Sheriff Department, believed I was OK since other code sections and the design of the carrier allowed the device to NOT be classified as a vehicle (requiring registration). So did the State Troopers he talked into to dropping by to see me and view the project in process and plans.
The device is called an
"Extended Load Carrier"
as far as Virginia DMV is concerned. But, they would not put that in writing.
Companies that make similar products commercially call them either Swivel Wheel Carriers or Swivel Wheel Trailers. Their attachment method is not the same as the one I designed. Thus, my chances of negating the trailer definition issue in Virginia are better.
No matter what you call it, the principle is the same. The wheels turn, not the body. Therefore you can back up and do not "swing out" in turns due to straight axle tracking.
Strictly by being lucky, or perhaps having one of my prayers answered, I found two Reese small truck receivers clearance priced at Lowe's for a fraction of their original cost. This purchase gave me the needed parts to build up a really strong hitch that would be welded to the frame rails under the CC giving me the needed two 2" hitch receivers. The photo shows how I did the pre-welding layout for the hitch.

I made the frame for the carrier bed from square tubing and angle iron. This photo shows the early stages of assembly.
The wheel swivels were built by a company in Northern Virginia (
http://doublehitch.com/index.html
). Unfortunately, I ended up having to rebuild them due to what I considered poor workmanship and crappy welds. This photo shows the reworked swivel wheel axle assembly with the upper hub on and ready for bolting to the mounting plate on the carrier.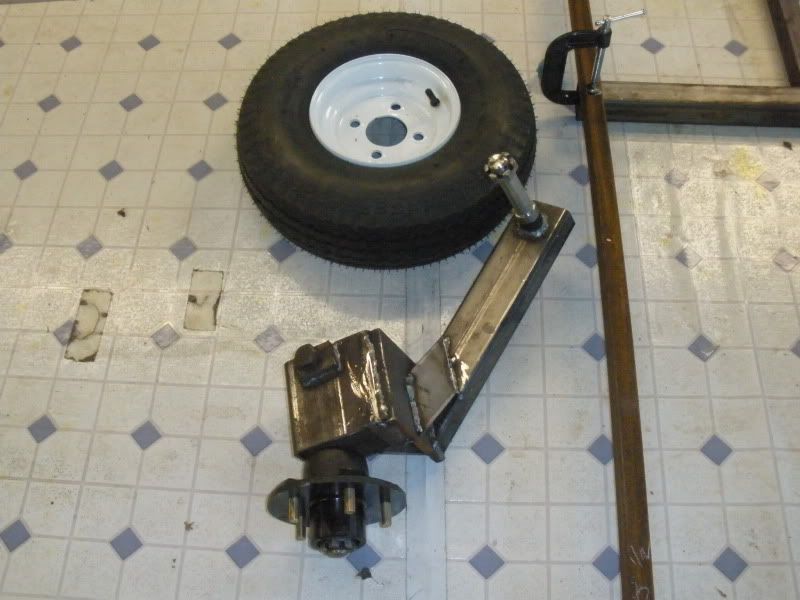 Jacks, hubs, wheels, tires, lights and such were sourced from Northern Tool and Tractor Supply.
The attachment of the carrier to the receiver is a true two-point bolt on using hardened grade eight 5/8" diameter bolts. No trailer couplers were used. I did not want any connection to even remotely resemble a trailer!
We got the golf cart to Emerald Isle and back home again - safely and without incident or a ticket by a rogue trooper. It did add 1,500 pounds of weight to the total tow load. My length is 59 feet 3 inches. I have 9 inches to spare and stay under 60 feet. The '99 GMC 3500 with a modified 7.4L gas engine and reworked transmission can pull a freight train with it's 4.55 rear axle gearing. The extra weight was nothing to the beast. It locked up in overdrive on the Interstate and cruised along with no perceptable change in load. All temperatures (water, oil, trans fluid) stayed nice and cool. Who says you need a pine knot burner to pull a big rig?
The carrier turned out to be the center of attention while in the beach campground. If I had charged for Q&A I could have easily paid for our two week stay.
Oh, did I mention "Safely" and within the weight parameters allowed for both the CC and tow vehicle?
One more thing…. Yes, this is a "Brag Mod". If it had not worked, I would never even consider telling you about it! It just goes to show you what an determined old fart with a welder, hacksaw and idea can accomplish when he has way too much time on his hands.
I love retirement! Only problem is I spend more time messing with our house on wheels than I do the one on bricks and mortar.